Written by: Eric Blondin – January 5th, 2021
---
As we end this crazy year that 2020 has been, I figured I'd share some insights on where SAP Analytics Cloud Planning (SACP) has now become what I think is one of the leading FP&A solutions on the market. In parallel, SimpleFi has invested into building pre-packaged planning solutions which allows us to deliver ready-to-use solutions in record time to our customers. Also, through each project, we find improvements we quickly apply to our content and become available to all our customers. Read below to understand where we are today and where our roadmap is leading us through 2021.
As an example, I will walk you through one of SimpleFi Solutions' pre-packaged content entirely built using SACP. The business process we will cover is HR Headcount and Financials planning. Although we have rolled out the solution within non-SAP landscapes with minimal additional development, the solution contains standard integration with SAP SuccessFactors and S/4HANA. So whether you are 100% on SAP solutions (including BPC) or use solutions like HFM, Workday or Peoplesoft, I think you'll find a lot to like with this content.
All the content detailed below can be implemented within a 4 weeks' timeframe, while larger rollouts involving more intense customization have been known to take up to 4 months including testing. Your only pre-requisite? Having SACP licenses. Contact us to know more.
HR Planning is part of a larger FP&A program
First thing that is important to realize as you set forward with HR Planning, is that gone are the days of Silo planning solutions. Once you have finished, or even while you are, planning HR feeds into general Expense Planning which in turn would feed a higher-level P&L. In the end, you do not want to export files between systems, you want flexibility along with well-defined workflows you can repeat as needed. This is how our SACP content was built and although we will focus on HR in this Blog, keep in mind this rolls-up to a much farther-reaching plan.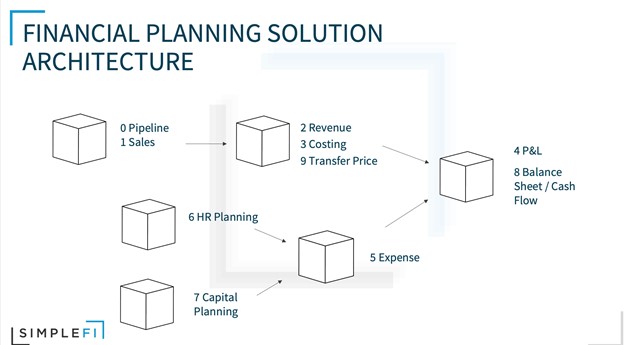 HR Planning – Getting Started
As you start your planning process, you have many options. But fundamentally, do you want to plan from a top-down perspective where you define Headcount or Compensation targets at a higher-level, typically from an Entity or Cost Center level, or would you rather delegate planning to each Cost Center managers who will define employee-level budgets that can then be rolled up to get an overall view of your plan? Both options are available in SACP and we've made sure not to box in a corner and provide both options using our pre-packaged content.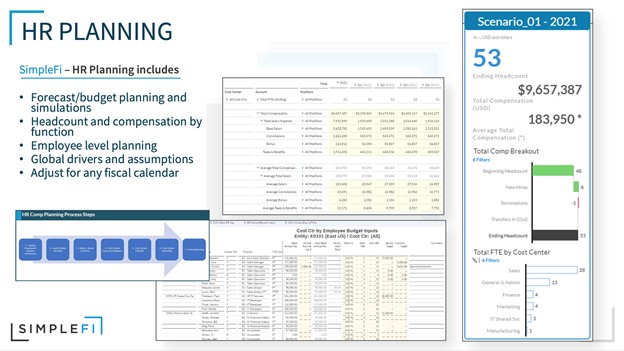 We also currently support Corporate-level drivers and Cost Center-level drivers, but do have a look at our roadmap towards the end with new functionalities becoming available in 2021.
HR Planning – It's also about automation
Once you've entered employee specific base salaries, merit %, bonus targets or simply use standard bonus plans, let SACP do the rest of the work for you where it will generate compensation monthly projections spread according to your Fiscal calendar and take into account all tax and benefits that apply to your business. Most standard U.S. taxes and benefits are already managed through our content with additional flexibility planned in our 2021 Roadmap.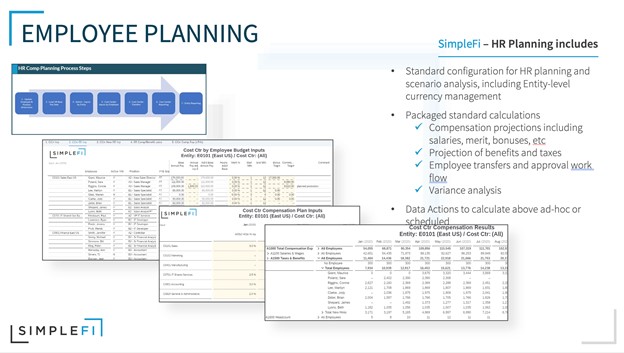 HR Planning – Reporting is at its core
Although our content is focused on your planning process, let's keep in mind that SAC was initially built specifically for reporting, so every step of the way, our HR Planning content provides you with tools that enable you to track and compare your plan.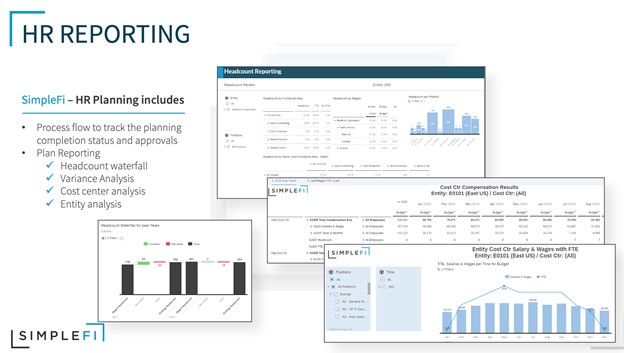 HR Planning – Employee Transfers
When we look at existing HR Planning business processes, one of the key elements that are not easily managed through the planning tool is the transfer process. As you plan, you know some people will move to other cost centers and you may get employees transferred to your cost center. But a recurring challenge is that you cannot write in other people cost center, so in order to complete a transfer you must complete some offline changes. This is solved in our content with a complete workflow that allows the originating Cost Center to initiate a transfer and the receiving Cost Center to either approve or reject. In the end, all the required accounts are transferred proportionally to the number of months required (so a transfer in period 7 splits all amounts in two). Again, the actual transfer is tracked and you can always come back and audit what was done through reporting.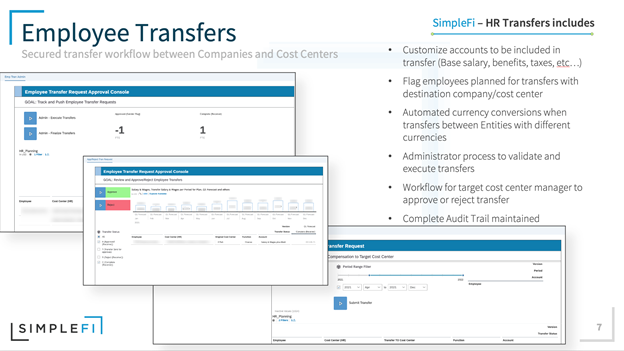 HR Planning – New/Replacement Hires
Another process that often poses a challenge when building an HR budget is related to new hires. Although you could manually add new positions in your budget and that could be enough for many, over time we have noticed that some steps would actually gain in effectiveness if they were automated. This screen actually uses SAC Analytic Applications, an advanced component, and enables you to generate new hires or replacement hires in three different ways.
Manually enter a new hire, still as flexible as ever and allows you to enter all the information you need.
Generate new hire from job posting. This requires you to load job postings in SAC, but once this is done, all you must do is select job posting to add to budget. This task will take the start date, base salary and bonus plan from the job posting (if available) and map it to your budget. A reference to your job posting is maintained so you can always refer back to it.
Finally, replacement hires can be generated directly from an existing employee or from a standard job profile. All that is left for you to do is enter the target start date, the system does the rest for you.
One minor enhancement planned for early 2021 is to be able to be able to define a quantity beside a new position, so if you budget for 30 new Customer Service Representatives for example, you can do one entry and specify the number beside it as they are all identical, the system will manage the rest.
One final enhancement to this process is dependent on SAP'S roadmap. If you have a long list of new hires for various positions/cost centers, where entering a number doesn't do the job. We plan on using the SAC Excel add-in to automate an upload process but this is dependent on a GET/SEND cell-based process planned for the second half of 2021.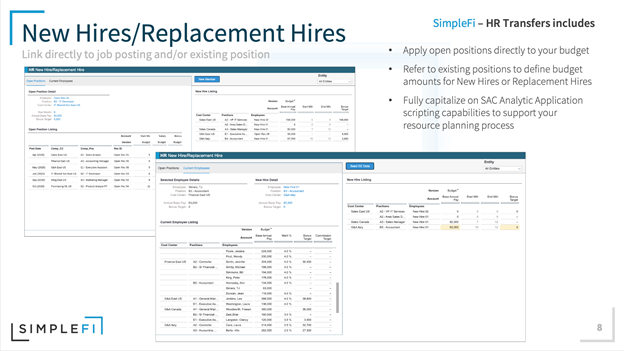 HR – Planning – Roadmap
As our SACP pre-packaged solutions become full-fledged solutions, we will be publishing roadmaps as below so that our customers can understand our vision for this solution. Do not hesitate to contact us if you have any questions on the current solution or if you feel the current roadmap is missing a key functionality you feel would greatly improve this solution for you. Also, we closely follow SAP's own roadmap (https://roadmaps.sap.com/welcome#/) , and as they add new functionalities we will update our roadmap to capitalize on it.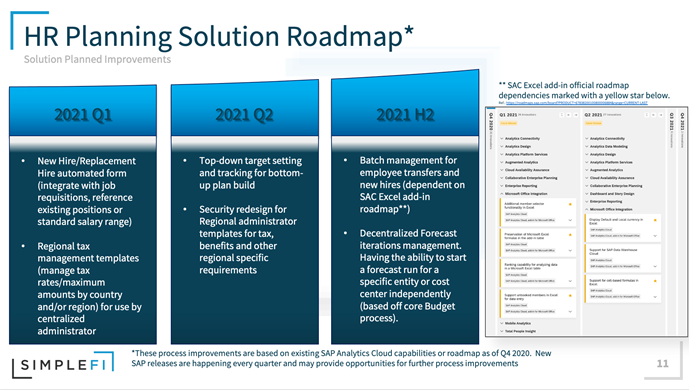 SAC Planning – Next Steps
Are you having challenges with your HR Planning process? Get in touch with us so we can discuss how we can best help you. Also, HR Planning is not your current priority? Have a look at our other SAC pre-packaged content https://simplefisolutions.com/prepackagedsolutions/
Let's discuss! [email protected]